Let me start by saying, " Chanel di HongKong murah lohh, pressed powder aku dibeliin skitar 300rb-an, n lipsticknya ga sampe 300rb! Around 270! :)"
Earlier in June, I have the chance to go on a holiday, quite a short holiday, around 5 days, to HongKong. I have always been very excited to go there because I knew that HongKong has a great varieties of cosmetics and beauty products, especially when the SaSa (a beauty department store) there are distributed on every part of HongKong, just like Indomaret in Indonesia! Wow! :D
So I end up getting so many make up stuffs from HongKong, including international brands such as Chanel, M.A.C, Giorgio Armani Beauty, Dior, and also The Balm, I also came across some interesting asian brand cosmetics such as Majolica Majorca, Kiss Me Heroine, and also DollyWink. Seems a lot of shopping, but to be really honest, I didn't shop much, only my friends ask me to buy stuffs for them, and trust me, it is a LOT of stuffs! Hahaha.. Need to know that Kiss Me Heroine Make Smooth Liquid Eyeliner has always been my favorite eyeliner! I'll do a review on that later on :)
Getting branded make up at HongKong airport is much cheaper compared to the store at malls. So I really suggest you guys to e patient and wait for yourself to get any branded make up that you've been drooling at the airport ;)
I got my Chanel Natural Finish Pressed Powder at the airport and I remember it is waaaaay cheaper.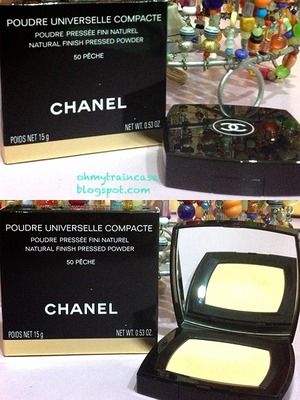 I got this in the shade of 50 peche, I am interested in buying this Limited Edition shade because I am just curious. I normally wear the compact in the shade of 20 clair, but when I tried 50 peche, it is so alike with the 20 clair, only that the 50 peche has slight soft shimmer in it, which will make the face looks slightly awake and illuminate. This powder is good for touch up, and has a very good oil control.
Then in July, My Dad and My Auntie were also traveling to HongKong and for the oleh-oleh they got me these: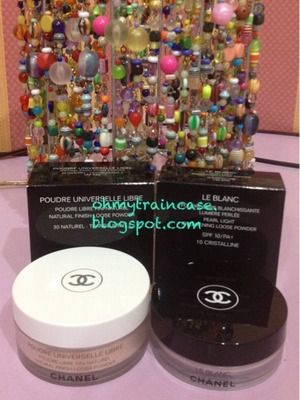 Chanel Natural Finish Loose Powder and Chanel Le Blanc Brightening Loose Powder
Since I ran out of my Chanel loose powder and need to get a new one, I ask them to buy it for me. Chanel Natural Finish Loose Powder is just a normal loose powder and I normally used it alone as a powder after primer application, or I use it for a finishing touch after a foundation application. I got this in the shade of 30 naturel, and it suits my nc30 skin. It has a very good oil control, and I really do have an oily skin :p
On the other hand, Chanel Le Blanc Brightening Loose Powder has the same concept with the Guerlain Meteorites, it is supposed to give the skin a glowy looking finish. Only this Chanel one has the effect of a little bit whitening to the skin. Here's the swatch of the powder: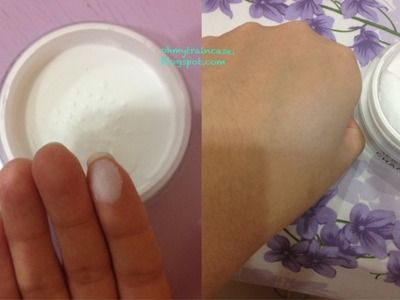 Left: Chanel Le Blanc Brightening Loose Powder swatch on finger. It is a white powder with a slight tiny shimmer.
Right: Swatch blended. When blended, it gives the effect brightening and awakening. I recommend applying this powder with a stipple brush though, so not so many shimmer will be deposit in the brush. :)
The last things that I got are lip products, it is the Chanel Rouge Coco Shine Lipstick in the shade 56 Chance and also Chanel Rouge Coco Lipstick in the shade 35 Chintz. I can't get the swatch on 35 Chintz because my mom is currently borrowing them :p I promised when I get the 35 Chintz back I'll post the swatch :)
Anyway, here's Chanel Rouge Coco Shine Lipstick 56 Chance: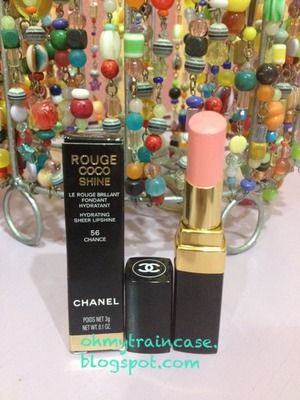 Chanel Rouge Coco Shine 56 Chance Swatch on Skin


Here are the swatches of 56 Chance on skin and on my lips: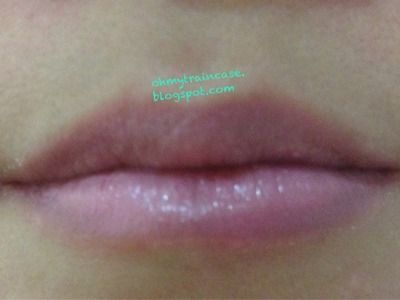 Chanel Rouge Coco Shine 56 Chance on Lips
I really like Chanel Rouge Coco Shine because of the texture and the finishing of it is sooooo good, just like lip balms, with a great and sweet color! The shade 56 Chance is just a milky peachy baby pink, soft, just like a pastel pink color. I am lovin' it! :)
That's it, that's all I have for you! :D
I hope my review was helpful for you ;)
So enjoy reading OH MY TRAINCASE!
P.S: GiveAway soon.. Stay tuned! :* *hugs*