So Giorgio Armani beauty was having a 20% sale on their website some time around last month, and I did not want to miss the opportunity to get their products! I previously already owned their luminous silk foundation and I end up to like it so much :) It is a very good foundation and what I like about it most is that it blends in to skin so perfectly, weightless and foundation-less on the face :) Way to go, Giorgio!
I end up getting two kind products on the sale, the first one is the Giorgio Armani Rouge D'Armani Sheers Hydrating Lipcolor #505 and Giorgio Armani Eyes to Kill Intense Eyeshadow #6 :D
This is what Giorgio Armani claims about the Eyes to Kill Intense Eyeshadow:
"Each shade is intensified with a second pigment for a multi-dimensional effect. In just one swoop, create a wet, shimmering smokey eye … Base color covers eyelid, and second pigment adds drama to the contour.

Twenty four hour color wear, crease proof, flake proof, waterproof and sweat-proof, Eyes To Kill Intense Eyeshadows slide on, stay on, but wipe off in an instant."

I've heard some of a very good reviews about this product and I am really interested to try! And to be honest, after trying it for the first time, this product really impress me! The shadow just glides so easily, and the pigmentation quality is an excellent one! The texture of the shadow is a bit like cream eyeshadow but not a hundred percent creamy, so just in between creamy, but not too powdery either. Because of the texture, it makes the eyeshadow so rich, silky, smooth, and don't forget to mention it is so easy to blend!
Here's the swatch of it on my skin, and it being applied on my eye lid :) It is actually a greyish brown with a hint of gold shimmer. If you apply it lightly, it is a very good daily eyeshadow, but if you apply it heavily and you can also wet the eyeshadow with water, it will produce you a more pigmented color pay off and it will look very good for a smokey brownish eye make up.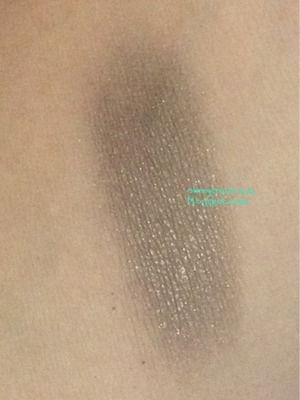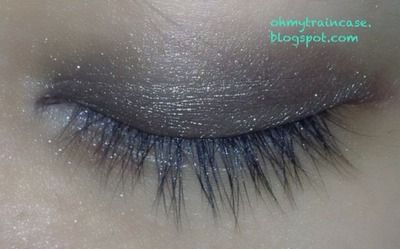 so sorry kalo keliatan polos, aku sengaja ga pake blend dgn
eyeshadow lain supaya bisa kelihatan the only color of the
Giorgio Armani Eyes to Kill #6 tanpa eyeshadow lain, eyeliner,
dan juga mascara. So it is my plain eye with the only product :)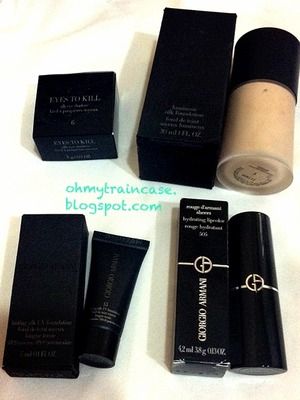 Overall, this is an excellent product! Can't wait to try the other shades available of this product. The only down side of the product is..... It is expensive :'(
All of make up junkies out there should try the Giorgio Armani Beauty Product, because out of all the products from Giorgio Armani Beauty that I have tried, to be honest, it is never
disappointing
! The quality is very well made. And if it is on SALE again I can't wait to try another product from the brand! :)
I hope my review was helpful for you ;)
So enjoy reading OH MY TRAINCASE!